Top 10 Fashion Stores Like Aritzia
Aritzia is a popular Canadian women's fashion brand known for its stylish, high-quality clothing and accessories. Founded in Vancouver in 1984, Aritzia has grown into a retail success story thanks to its keen eye for design and understanding of its fashionable customer base.
Aritzia stores have an unmistakable aesthetic featuring boutique-style settings and trendy, beautiful clothes displayed to inspire shoppers. At its nearly 100 locations across North America, Aritzia offers inviting spaces to discover emerging brands and find your new favorite outfit.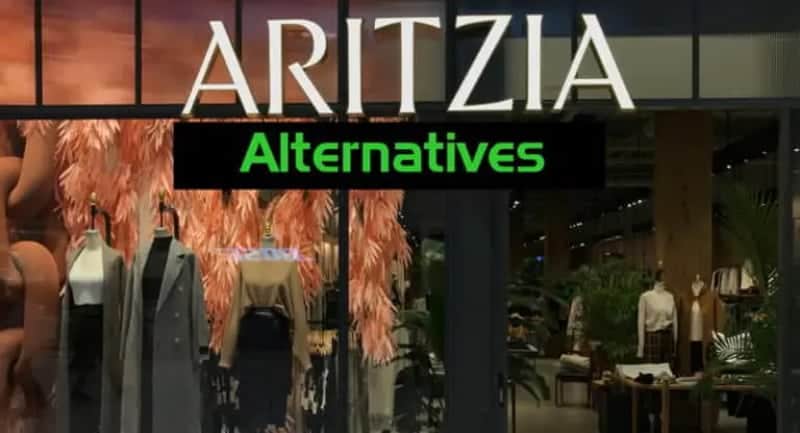 The retailer has built its reputation on carrying exclusive brands only found at Aritzia, like Wilfred, Babaton and Tna. By focusing on in-house labels, Aritzia delivers consistent design and fits tailored to its target demographic of younger millennial women. ltivate an enjoyable, personalized shopping experience to keep clients coming back for the full lifestyle brand experience. Aritzia continues to thoughtfully expand its retail footprint while staying committed to its original high-end meets accessible fashion formula.
However, despite all the qualities of Aritzia, many shoppers still prefer to explore other alternatives and some of the competitors of Aritzia acctually offer similar product at a competitive price. So today if you are one of those who would like to explore other alternatives to Aritzia to expand your scope, then this is the article to read.
If you love the Aritzia aesthetic and are looking for similar stores, here are the top 10 alternatives to shop for affordable, trendy styles at a competitive price.
Top best Aritzia Alternatives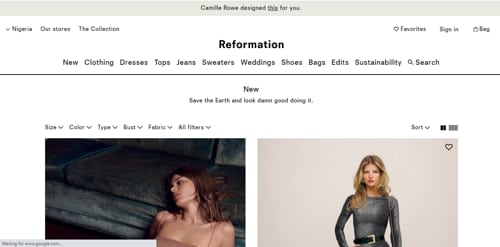 Founded in 2009 in Los Angeles, Reformation has become one of the most recognizable sustainable fashion brands. They are known for their effortlessly chic dresses, tops, bottoms and sets made from eco-friendly and recycled materials.
Reformation ships worldwide and offers free returns in the US. They frequently run sales and promotions making their elevated essentials quite affordable. Their feminine silhouettes, intricate detailing and variety of prints appeal to the Reformation girl – cool, understatedly sexy and conscious.
Key Benefits:
Sustainable materials and ethical production
Trendy, vintage-inspired styles
Dresses, denim, shoes and accessories
Affordable with frequent sales
Free shipping and returns in US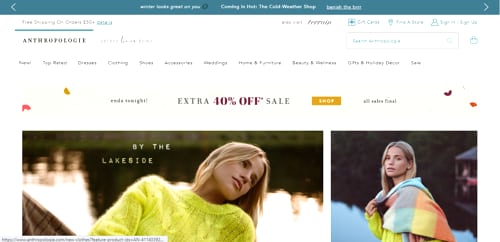 Owned by URBN, Anthropologie began in 1992 as a specialty store for eclectic apparel and home décor. Today, it has expanded into a lifestyle brand known for its curated collection of boho-chic women's clothing, shoes, accessories and beauty.
Based in Philadelphia, Anthropologie ships orders over $50 for free in the US and offers free returns. They host annual sales events that make their feminine, artsy assortment more budget-friendly for the creative, cultured Anthropologie woman.
Key Benefits:
Wide assortment of apparel, shoes, accessories and home
Signature boho, romantic styles
Intricate patterns and details
Pricey but frequent sales help offset costs
Free shipping and returns in US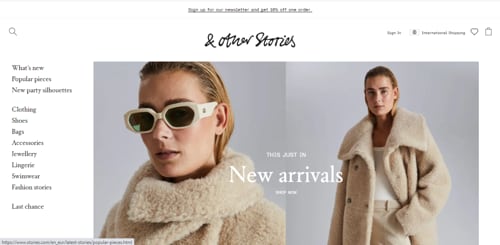 Launched in 2013, & Other Stories is a sister brand of H&M based in Sweden. They offer a wide range of clothing, shoes, accessories and beauty products designed for the stylish, creative woman.
& Other Stories focuses on quality fabrics, feminine silhouettes and attention to detail. The brand ships orders over $40 for free and allows free returns to US stores. Their collections often sell out quickly making their fashion-forward essentials feel exclusive. Overall, they balance quality, design and affordable prices.
Key Benefits:
Trend-driven yet timeless styles
Quality materials and craftsmanship
Apparel, shoes, bags, jewellery and beauty
New collections released weekly
Free shipping over $40 and free returns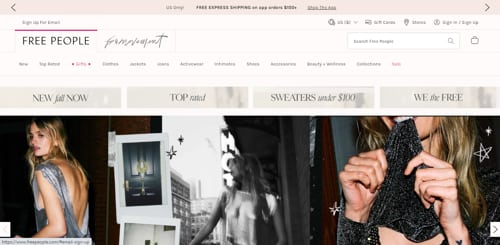 Based in Philadelphia, Free People is a specialty retailer owned by URBN known for its bohemian-chic, vintage-inspired women's clothing. The brand targets the free-spirited 20-something who values creativity, travel and community.
Nearly 50% of Free People clothing incorporates sustainable materials like organic cotton. They offer free shipping over $50 and free returns in the US. Fans love Free People for its dresses, denim, intimates, swimwear and festival accessories that balance femininity and function.
Key Benefits:
Boho, vintage-inspired fashion
Dresses, jeans, loungewear, shoes and more
Sustainable fabrics used in many items
Free shipping and returns in US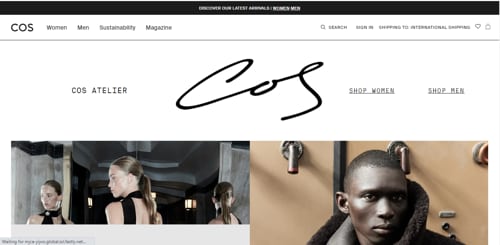 Founded in 2007, COS is a Swedish brand focused on modern, functional essentials and clean silhouettes. They offer apparel, shoes and accessories for men and women designed for everyday wear.
COS uses high quality fabrics and construction but at lower prices than luxury brands. Online orders over $50 get free standard shipping. While simplistic, their clothing incorporates clever details for the refined, eco-conscious shopper who values quality craftsmanship.
Key Benefits:
Understated, minimalist aesthetic
Sustainably-sourced, quality materials
Clothing, shoes and accessories for men and women
Lower prices than designer brands
Free shipping over $50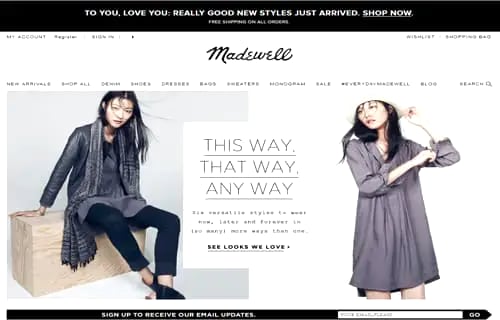 Madewell was founded in 2006 as a denim-focused brand under the J.Crew Group. They have since expanded into a full lifestyle line while remaining committed to quality materials and craftsmanship.
Their target customer is the casual, effortless cool girl who values simplicity, ease and versatility. Madewell offers free standard shipping and returns in the US. Their signature skinny jeans, tees, jackets and accessories balance a laidback vibe with luxe fabrics and detailing.
Key Benefits:
Timeless, high-quality basics
Denim, tees, dresses, sweaters, outerwear
Sustainably-sourced materials
Stores worldwide and online
Free shipping and returns in US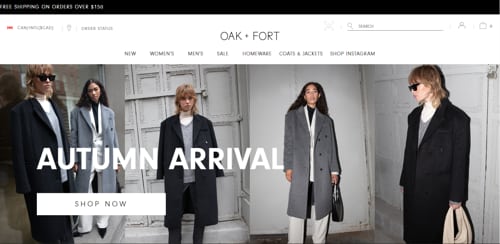 Oak + Fort launched in 2014 as a contemporary brand focused on everyday luxury essentials for men and women. Based in Vancouver, they are committed to sustainability, offering natural fabrics and ethical manufacturing.
Their clothing features neutral palettes with thoughtful, modern design touches. Oak + Fort offers free shipping to Canada and the US on orders $100+ and free returns. Overall their focus on quality over quantity at accessible price points appeals to the discerning, eco-conscious customer.
Key Benefits:
Sustainable materials and production
Elevated basics and silhouettes
Apparel, shoes and accessories for all genders
Ships from Canada
Free shipping over $100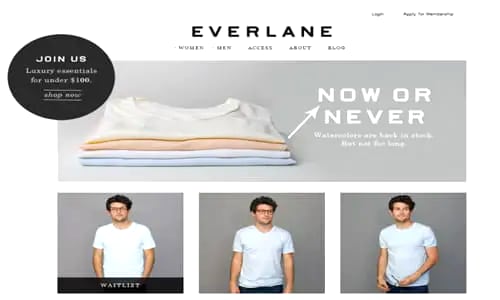 Founded in 2010 in San Francisco, Everlane centers around exceptional quality and ethical factories to offer luxury basics at friendly prices. Their signature capsule collections feature luxe fabrics and clean silhouettes designed for versatility.
Everlane is pioneering radical transparency in fashion production and pricing. Online orders ship free in the US over $75. For the conscious consumer looking for investment pieces, Everlane delivers modern essentials built to last while making sustainable practices the norm.
Key Benefits:
Ethical factories and production
Luxury fabrics and craftsmanship
Tees, denim, sweaters, outerwear and more
Radical transparency model
Free US shipping over $75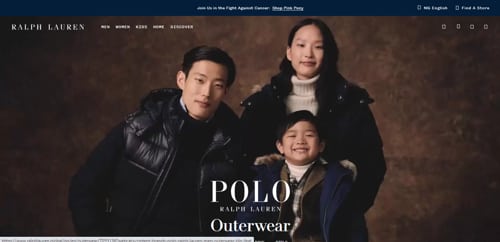 While higher-priced than Aritzia, Ralph Lauren offers a similar preppy-chic aesthetic on apparel, footwear and accessories for men, women and children. The iconic brand was founded in 1967 built around the American Dream.
Today Ralph Lauren has expanded globally while still emphasizing heritage, quality and craftsmanship. They offer free shipping in the US and Canada on orders over $150. For investment pieces, their signature polos, oxfords and cable-knits deliver lasting value and classically cool style.
Key Benefits:
Iconic, premium American brand
Luxury fabrics and quality
Apparel, shoes and accessories for all
Men's, women's, children's and home
Free shipping over $150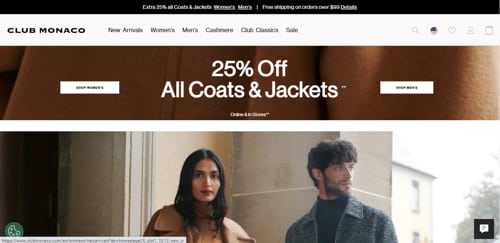 Founded in Toronto in 1985, Club Monaco specializes in stylish, urban fashion for men and women. With both standalone boutiques and locations inside major department stores, their clothes blend minimalist silhouettes with bold colors, patterns and fabrics.
Club Monaco offers free standard shipping and returns online. Overall their modern basics and professional wear appeal to the urban sophisticate who values looking put-together effortlessly. The brand brings elevated style to everyday urban living.
Key Benefits:
Contemporary, fashion-forward styles
Versatile mix-and-match pieces
Apparel, shoes and accessories
Locations worldwide and online
Free shipping and returns
Conclusion
Whichever brand's aesthetic speaks to you most, there are plenty of fashionable alternatives for the Aritzia lover. Look for stores emphasizing style, quality materials and ethical production to build a wardrobe you feel good about wearing. With online shopping and great shipping policies, you can get the latest trends delivered right to your door.
FAQs about Aritzia
When was Aritzia founded?
A: Aritzia was founded in 1984 by Brian Hill in Vancouver, BC.
What is Aritzia known for?
A: Aritzia is known for stylish, well-made women's apparel, shoes and accessories with a focus on blazers, knitwear and loungewear. Their clothes combine everyday wearability with of-the-moment details.
What are Aritzia's most popular items?
A: Some of Aritzia's most popular products include their Tna sweatpants and sweaters, Wilfred blazers and blouses, Babaton dresses and coats, and The Super Puff jacket.
Does Aritzia have sales or discounts?
A: Aritzia rarely offers sales or discounts. They provide select price adjustments during seasonal transitional periods, but prices are generally fixed.
Does Aritzia accept returns?
A: Yes, Aritzia accepts returns and exchanges on all unworn, unwashed merchandise with the original tags still attached. Returns must be made within 30 days of purchase.
Does Aritzia ship internationally?
A: Aritzia ships online orders to select countries internationally, including the United States and parts of Europe. Shipping costs vary by location. Many Canadian stores can also ship orders internationally.
Is there an Aritzia membership program?
A: Yes, Aritzia's The Clientele program is a free membership that offers perks like early access to sales, free styling services, birthday rewards and free domestic shipping and returns. Members earn points on purchases for additional discounts.